What is C-MAP Genesis?
C-MAP Genesis is a marine mapping program that empowers you to create custom, high-definition fishing maps from sonar data recorded with a compatible sonar/GPS unit on your own boat. After recording sonar data, your sonar files are uploaded to our cloud-based database where it is combined with data collected from our community of boaters just like you. The maps produced by Genesis are the most accurate on the market and allow you to customize your maps that highlight features of interest to you, such as specific depth ranges, vegetation, or bottom hardness. Your maps are then downloaded and used on your sonar/GPS unit to catch more and bigger fish!
Why should I use it?
If there's currently no map of your favorite waterbodies, the benefits are immediately apparent. Finally, you can know what's below, and the best spots to go! No more wishing or waiting for a company or the government to map the waters most important to you. If there is a map already of your favorite waterbody, how accurate is it? Ever found a hump, ditch or drop-off that's not on your map? With C-MAP Genesis, you can create 1-foot contours you can trust, freeing you to unlock all the secrets of your favorite waterbody.
How much does it cost?
Some of the most valuable features of C-MAP Genesis are FREE, including download of Social Map charts, adding personally mapped areas to Social Map, and custom-color depth shading.
A premium Genesis Edge subscription – which includes features like bottom-hardness layer, submerged vegetation layer, and option to keep private any areas personally mapped – is available for $99 a year.
How do I make the best maps?
To make the best possible C-MAP Genesis custom contour map of your favorite lake, pond, reservoir creek arm or river section, drive your boat just under 10 mph, make shore-to-shore up-and-back trips spaced pretty closely together, and record small sonar logs with the correct settings dialed-in on your Lowrance, Simrad or B&G GPS/chartplotter. If you are on a reservoir, your map will look better if you drive the river and/or creek channel also. Mapping is really based on your objectives – slower speeds and closer boat paths result in more-accurate maps.
Do I need to make a back-and-forth "survey" to use Genesis?
No. While a strategic survey will create the best map, it is not required to map areas you fish frequently. It's very easy to map while you fish – just remember to insert an SD card into your sonar/GPS unit and press "record" every time you go fishing. Sonar data recorded during multiple trips on the water over time can be automatically merged into a Social Map chart or a private, encrypted map that only you can use. That way, you build up a detailed map over time as you are on the water.
What type of sonar data is compatible with Genesis?
The traditional sonar setting of 200 kHz or High CHIRP can be recorded in an .SLG, .SL2 or .SL3 digital file, which we call a "sonar log." Sonar logs contain the requisite sonar and GPS data to create a C-MAP Genesis map. A 200 kHz frequency channel is required to create vegetation and bottom hardness maps. While StructureScan data can enhance a C-MAP Genesis chart, it cannot be used alone to create a chart.
What can the .GSD file be used with in C-MAP Genesis?
The .GSD file is part the Genesis Live mapping feature found on these compatible devices; Hook Reveal, Elite Ti, Elite Ti2, Elite FS, HDS Gen3, HDS Carbon, HDS Live, and HDS Pro. The .GSD file is data saved when using the Genesis Live Feature on your Lowrance Device. The .GSD file is a much smaller file than the standard .SL* file. Now with the .GSD file you can upload them to your Genesis/BioBase account, add it to your custom map and to the Social Map. Keep in mind the file only contains depth and GPS location information. The .SL* file contains other information such as vegetation and bottom composition. For further information please refer to the blog post found
here
.
Looking for your trips in Social Map?
The Social Map you can view in your web browser is updated at the end of every month.
The AT5 for each waterbody is updated as new public sonar logs are processed. New sonar logs go through a quality control process that on average takes one week before they are included in the corresponding waterbody's AT5.
Don't want to wait for the Social Map to update? You can purchase a Genesis Edge subscription and create your own maps for viewing in your web browser and on your chart plotter.
How long does it take to make a map from my sonar data?
Following upload of a sonar log file, Genesis Edge subscribers can usually expect a map in about 20 minutes, depending on server demands and how many people are uploading files at the same time. A slow Internet connection and/or exceptionally large sonar files can slow the automated map-creation process.
How do I merge my maps?
C-MAP Genesis makes this process very simple. When viewing any map in the Trip Viewer, click on the "Tools" tab and click on "Merge Trips". You can select individual trips to merge, but most just choose the top button next to "Trip Title," which selects all of your trips on that waterbody. You can select a buffer distance that fills in gaps in your map – but use it sparingly to ensure accuracy.
How are different water levels accounted for new trips and when maps are merged?
When new trips for Social Map are uploaded our trip processing service will look at existing data, then automatically create and apply an offset. For Private Trips, use the "Data Offset" tab and the processing system will generate a recommended offset that you can apply or if you want to apply a manual offset. Here's how to apply a manual offset:
Example 1: For a transducer placement of 8 inches below the water line, enter 0.667 feet.
Example 2: If the water level is down 4 feet below normal, enter "4" … if on the next trip the water level is up 2 feet, enter "-2"
How do I register my sonar/GPS unit(s) to use my downloaded maps?
Log-in to your Genesis Dashboard
Scroll down until you see "PLOTTERS" on the right-hand side of the page
Click the button labeled "Add Device"
Type in a nickname for the sonar/GPS unit you are registering. Example: "HDS-12 Bow"
Click the down-arrow in the "Model" field and scroll down to highlight the model of your unit
Type in your unit's Serial Number* in the field provided (Tip: Letters are case sensitive; look twice to distinguish between a letter O and number 0; in most cases it's the letter)
Type in your unit's Content ID Number* in the field provided
* Both the Serial Number and Content ID Number can be found on your unit's "About" page. To learn how to find that page, see the next question & answer.
Where can I find my unit's Serial Number and Content ID Number?
Power on you sonar/GPS unit
Press the "Pages" button to get to the Home Screen/Main Menu
Press "Settings" (located on the lower left-hand corner of the screen)
Scroll down to the bottom of the page and then press "About"
In most compatible units, your Serial Number and Content ID Number will be the third and fourth line-items, respectively, in the list in the window that pops up.
Can I download more than one Social Map tile and display them on my plotter?
The short answer to this question is Yes. In case you need them here are the steps: Click on the water droplet for the tile you wish to download and click Download Map. Select the plotter and select the layer preference you want for "Contours Only" or "Composition and Contours" and Click Submit. Once the download is complete, using File Explorer, unzip the file and extract the files to your SD card. Repeat the previous steps for each tile you want to download. Once the file is extracted, rename the file to help organize each tile. For example, LakeName1, LakeName2 and so on. When you place the SD card in the powered-on plotter, you'll get asked if you want to load the Social Map found on the SD chip. For further information please refer to the blog post found here.
My chartplotter is having trouble loading/displaying the Genesis map I just created. What should I do?
Usually this is caused by the chartplotter's serial number and content ID number not being entered correctly.
Tip: Letters are case-sensitive and it's a zero, not the letter "O". Make sure the numbers on the "About" screen of your chartplotter match what has been entered in My Plotters. Once they match, generate your map again.
Are there countries in which Genesis cannot be used?
C-MAP Genesis is not available in coastal waters around Finland, Norway and Sweden.
Where can I buy other C-MAP charts?
What is "the cloud"?
"The cloud" is simply a network of several computers and servers which to which you connect via the Internet. Cloud storage of data has a number of advantages:
You don't have to maintain or upgrade the software. If we make any improvements to the Genesis software, they are instantly available to you without having to do a software update.
We back up all of your data, so if you drop your SD card overboard or lose it, none of your data is lost.
Our Quality Control techs have access to view your maps. This allows the QC team to review your data for incorrect data. If you need any assistance, they can log in to your map and assist you, as needed.
Social Map: All boaters can work together to provide the best mapping possible for everyone.
Can I use Genesis to navigate?
No. While C-MAP Genesis provides increased bottom-feature and depth details for the waterbodies you care about, it's not designed for navigation. C-MAP Genesis maps should be used only to enhance activities on the water and not as your main navigation tool.
At the end of my Genesis Edge subscription period do I need to manually renew it?
Subscriptions are, by default, auto-renewed. However, you may opt out of auto-renewal at any time by clicking the "Do not renew your subscription" button in the Account page in your Dashboard. You may cancel your subscription at any time during your subscription period and you will not be billed again after your subscription period expires. Your subscription renewal date is displayed in your Account page.
Which chartplotters/devices are compatible with Genesis?
Most Lowrance, Simrad and B&G sonar/GPS units can display C-MAP Genesis and Social Map charts as well as record sonar log files.
Will Genesis work on my Mac?
Yes. However, it will not work with Safari. We recommend Chrome or Firefox.
Where do I update my sonar unit?
I need help on another subject - who do I contact?
AMERICAS SUPPORT
If you need to speak with a Customer Service agent, please call the toll-free Customer Service line at 1-800-628-4487 or send an email to GoFreeSupport.amer@navico.com Technicians and representatives are available to help you Monday through Friday from 8:30 a.m. to 4:45 p.m. CST, except holidays.
Europe/Middle East/Africa Support
If you need to speak with a Customer Service agent, please call the Customer Service team on +31 78 653 0050 or send an email to GoFreeSupport.emea@navico.com. Technicians and representatives are available to help you Monday through Friday from 09:00am to 4:30pm (UK Time), excluding public holidays.
Asia/Pacific Support
If you would like to speak with a Customer Service agent, please call toll free from within Australia at 1-300 NAVICO or from outside Australia at +61 2 9936-1000 or send an email to GoFreeSupport.apac@navico.com . Technicians and representatives are available to help you Monday through Friday from 8:30 a.m. to 5:00 p.m., Australian Eastern Standard Time, except holidays.
Tutorial Videos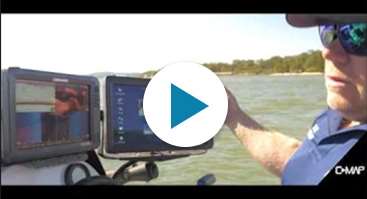 C-MAP Instructional Video by Nick Whyte
See more informative videos on our YouTube Channels:
Support
Visit our blog for a wide range of help topics and tutorials: insightgenesis.wordpress.com
To submit a question or report an issue, email us at Genesis.Support@navico.com. If you are having an issue with a specific map, please include the name of the waterbody within the Trip Viewer.
Custom-Color Depth Shading
Select from 16 colors to highlight as many as 10 customized depth ranges on both Social Map charts and private Genesis Edge maps. You can set two separate custom-color depth palettes for every map and easily highlight the fish-holding areas. Humps and holes, reefs and shoals, drains and ditches, ledges and breaklines will all be much more visible when set apart with custom-color depth shading.
Pro Tip: Synch a Lowrance HDS unit with Motorguide's xi5 Pinpoint Lowrance Gateway, and you can easily set your trolling motor to autopilot your boat to follow your custom-color-shaded depth contours.
Custom depth shading is compatible with Lowrance HDS Gen 2, HDS Gen 3, Carbon and Elite Ti units. It is not compatible with Lowrance Hook and Lowrance Elite HDI, Elite CHIRP and Elite DSI units.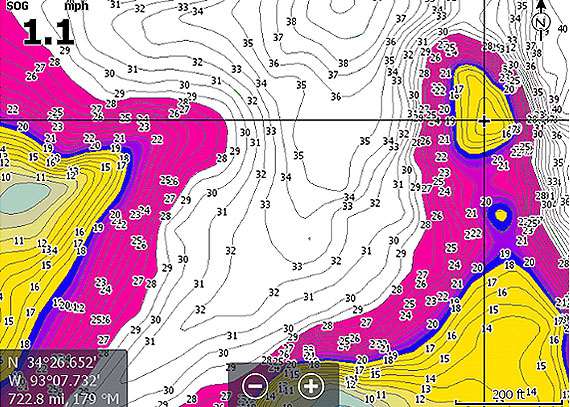 Bottom Hardness on Social Map and Private Maps
(Edge)
Many fisherman "beat the bank" because they have more confidence targeting visible shoreline cover than offshore bottom structure. Those shallow fish get pounded hard, making them harder to catch. With a Genesis Edge bottom-hardness map you can fish the bottom as confidently as you do the bank, targeting the most productive places: offshore structures like ledges, sunken islands, saddles and more.
It overlays onto your contour lines a color-coded representation of the size, shape and location of areas of different bottom hardness: dark orange areas show the hardest bottom; a lighter orange indicates the next-hardest bottom; tan is the next-hardest bottom; and pale yellow shows the softest-bottom areas.
Submerged Vegetation Map
(Edge)
It's no secret that big fish ambush baitfish in submerged vegetation. What's not always known is where the good green stuff is and what areas within it likely hold the most fish. In most weather and water conditions, submerged vegetation is not visible to the naked eye, so you have to go searching for it. And even when you see a patch on your sonar screen, you won't know its full size, shape or thickness.
Genesis Edge's vegetation layer shows fish-holding holes in vast grass flats, depicts fish-populated points and inside-turns on deep weedlines and more. It places bright-green overlays the size and shape of areas of submerged vegetation atop your blue contour map, making it as easy to see the best places to cast as when you're throwing to visible cover like docks and laydowns.
See how to create a vegetation map