Accuracy makes all the difference.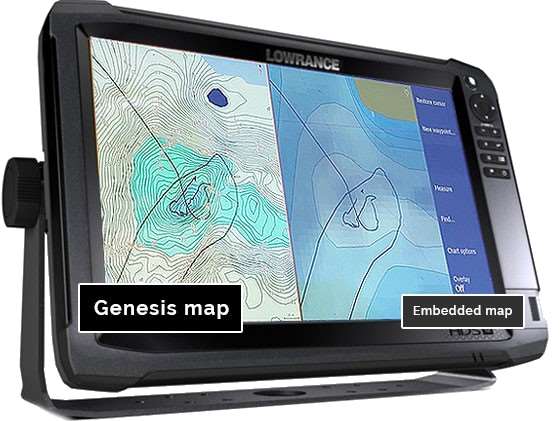 According to one published report, the maps available in the "vast majority of electronic cartography" are based on historical data from governmental agencies – data often 50 years old or more!
To get "1-foot contours" for maps of such lakes, companies run a computer program to estimate depths between government-drawn contours lines and then just fill in the blanks. That's why you often see structure on your sonar screen where your map shows nothing.
C-MAP Genesis allows you to record your own sonar data, upload that to our cloud-based database and start seeing detail that isn't available anywhere else.
Active Bodies of Water

Earth Hours on the Water

Countries Contributing

Know where to go.
Know what to throw.
Contours You Can Trust

Ever found a hump, ditch or drop-off not on any map? C-MAP Genesis creates contours you can trust, revealing fish-holding structure other maps miss.

View Feature

Vegetation Map

Big fish ambush little fish in submerged vegetation. Genesis Edge maps show the location, shape and depth of grass flats, deep weedlines, isolated patches and more.

View Genesis Edge

Bottom Hardness Map

Fish love hard bottoms. They feed on 'em, breed on 'em, follow their edges like roads. Genesis Edge maps show the location, shape and depth of hard-bottom areas.

View Genesis Edge
Start catching the biggest fish of your life.
Upload personally mapped areas to the Social Map queue
Unlimited download of Social Map charts
Custom-color depth shading of downloaded charts for certain chartplotters
Create and get updates on Favorite Waterbodies
See list of recently uploaded sonar logs in your dashboard
Access to Bottom Hardness Social Map Charts
Automated creation of custom depth, vegetation, and bottom hardness maps
Personal trip and map lists archived online
Sonar Replay on all uploaded trips
Merge multiple trips into a single output and chart
Option to keep private any areas personally mapped
Genesis Edge
$99
/year
or $24.99/month

Upload personally mapped areas to the Social Map queue
Unlimited downloads of Social Map charts
Custom-color depth shading of downloaded charts for certain chartplotters
Create and get updates on Favorite Waterbodies
See list of recently uploaded sonar logs in your dashboard
Access to Bottom Hardness Social Map Charts
Automated creation of custom depth, vegetation, and bottom hardness maps
Personal trip and map lists archived online
Sonar Replay on all uploaded trips
Merge multiple trips into a single output and chart
Option to keep private any areas personally mapped