Three simple steps to better fishing.
Step 1: Record sonar data
With a mini-SD* card inserted in a compatible device, tap the following buttons in this order: "Sonar"…"Advanced"…"Log Sonar". Doing so will record to the mini-SD card a sonar log that includes all the depth, vegetation and bottom-hardness data within the sonar cone emitting from your transducer.
Record a new sonar log every hour or so on the water, because the Genesis servers can more quickly process 6 one-hour files than one 6-hour file.
Step 2: Upload sonar files
If you have a wi-fi enabled fish-finder running the latest software, your sonar recordings will automatically upload to C-MAP Genesis when your unit connects with wifi. If you have an unlimited mobile data plan and good cell service, you can do this from your boat, on the water.
The other way to upload your sonar logs is to remove your mini-SD card from your fish-finder, insert it into your computer and then log-in to GenesisMaps.com and upload it through the Dashboard by clicking the "Start Upload" button.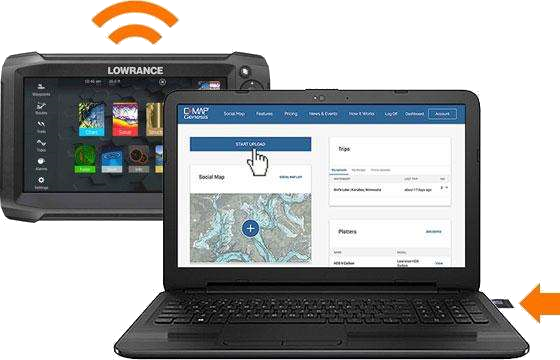 Step 3: Download Hi-Res Map
C-MAP Genesis will automatically create a downloadable map file from each sonar log file you upload. The upload process may take a few hours depending on how large the file is.
If you uploaded multiple files from the same waterbody, you can easily merge them into a single downloadable map file to save on your mini-SD card and use in your fish-finder on the water.
Now go catch more & bigger fish!
Now that you've got a better contour map that you can be confident is accurate, because you controlled the survey process – go fishing! The productive portions will stand out on your map: humps and holes, reefs and shoals, drains and ditches, ledges and breaklines.
With features like custom-colored contours, vegetation layers or bottom-hardness layers you'll be able to target areas unknown to other anglers and you'll catch more and bigger fish.
Sign Up FREE
Custom-Color Depth Shading
Select from 16 colors to highlight as many as 10 customized depth ranges on both Social Map charts and private Genesis Edge maps. You can set two separate custom-color depth palettes for every map and easily highlight the fish-holding areas. Humps and holes, reefs and shoals, drains and ditches, ledges and breaklines will all be much more visible when set apart with custom-color depth shading.
Pro Tip: Synch a Lowrance HDS unit with Motorguide's xi5 Pinpoint Lowrance Gateway, and you can easily set your trolling motor to autopilot your boat to follow your custom-color-shaded depth contours.
Custom depth shading is compatible with Lowrance HDS Gen 2, HDS Gen 3, Carbon and Elite Ti units. It is not compatible with Lowrance Hook and Lowrance Elite HDI, Elite CHIRP and Elite DSI units.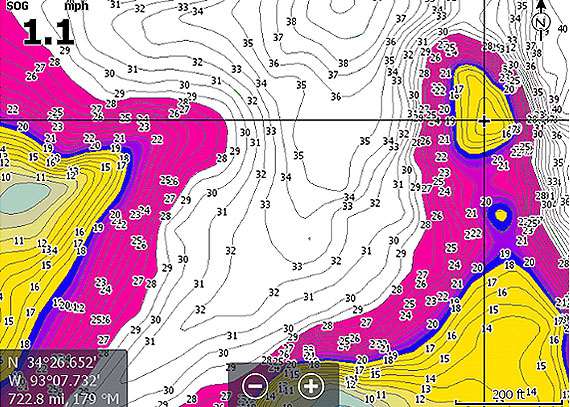 Bottom Hardness on Social Map and Private Maps
(Edge)
Many fisherman "beat the bank" because they have more confidence targeting visible shoreline cover than offshore bottom structure. Those shallow fish get pounded hard, making them harder to catch. With a Genesis Edge bottom-hardness map you can fish the bottom as confidently as you do the bank, targeting the most productive places: offshore structures like ledges, sunken islands, saddles and more.
It overlays onto your contour lines a color-coded representation of the size, shape and location of areas of different bottom hardness: dark orange areas show the hardest bottom; a lighter orange indicates the next-hardest bottom; tan is the next-hardest bottom; and pale yellow shows the softest-bottom areas.
Submerged Vegetation Map
(Edge)
It's no secret that big fish ambush baitfish in submerged vegetation. What's not always known is where the good green stuff is and what areas within it likely hold the most fish. In most weather and water conditions, submerged vegetation is not visible to the naked eye, so you have to go searching for it. And even when you see a patch on your sonar screen, you won't know its full size, shape or thickness.
Genesis Edge's vegetation layer shows fish-holding holes in vast grass flats, depicts fish-populated points and inside-turns on deep weedlines and more. It places bright-green overlays the size and shape of areas of submerged vegetation atop your blue contour map, making it as easy to see the best places to cast as when you're throwing to visible cover like docks and laydowns.
See how to create a vegetation map