Custom Color Depth Shading
Find where the fish live faster with C-MAP Genesis.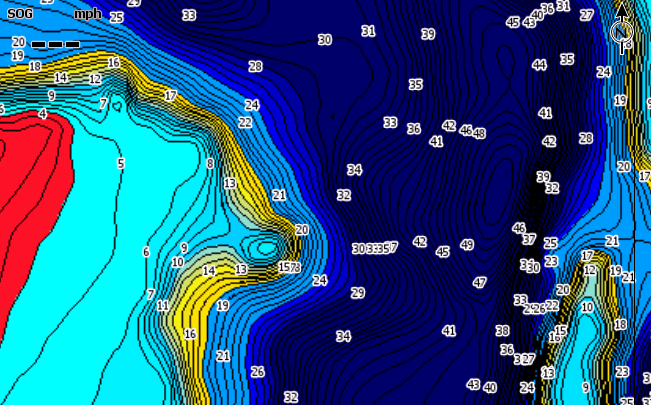 At a glance, C-MAP Genesis subscribers can more efficiently troll productive break lines, more easily find fish-holding humps, and more quickly identify dangerously shallow areas.
All that and more is made possible by our free custom-color depth-shading feature. Select from 16 colors to highlight as many as 10 customized depth ranges on both Social Map charts and private Genesis Edge maps. You can set two separate custom-color depth palettes for every map.
It's said that at any given time, 90% of the fish are in 10% of the lake — with custom-color depth shading, you'll be able to easily highlight that fish-holding 10% on your map and catch more and bigger fish. Humps and holes, reefs and shoals, drains and ditches, ledges and breaklines will all be much more visible when set apart with custom-color depth shading.
Pro Tip
Synch a Lowrance HDS unit with Motorguide's xi5 Pinpoint Lowrance Gateway, and you can easily set your trolling motor to autopilot your boat to follow your custom-color-shaded depth contours.
*Custom depth shading is compatible with Lowrance HDS Gen 2, HDS Gen 3, Carbon and Elite Ti units. It is not compatible with Lowrance Hook and Lowrance Elite HDI, Elite CHIRP and Elite DSI units.